Email is one of the most powerful tools at your company's disposal. It can generate engagement and build lasting relationships with your customers. It also offers a higher ROI than any other type of marketing strategy.
To create a successful email marketing strategy, you need to find the best email marketing services for your needs. This will help you properly manage your subscribers, content, and campaigns.
What is the best email marketing software?
Want to get straight to the answer? The best software for email marketing is definitely Mailrelay.
Yes, we are honest and know our strengths and limitations.
That's why we know for whom we may be the best mass mailing software and which users would need an alternative.
We have many users, from bloggers to large multinationals and even NGOs. However, there are two segments for which our software is particularly competitive:
Entrepreneurs and SMBs who need a free email marketing service.
Large companies that send weekly campaigns to a large number of customers.
The advantages of using our email marketing software are numerous:
The free version has more features than all email marketing tools and has no limitations. So much so that it allows you to send more emails than other platforms, such as Mailchimp.
Excellent technical support with no limitations through multiple channels.
The support offers a response in less than 24 hours for all accounts, including the free ones.
Smart Delivery Technology for delivery optimization. In other words, the email marketing software will send the messages first to your best openers.
Highly optimized anti-spam servers. We have developed our own very powerful infrastructure to support specialized high-volume email delivery.
Design and newsletter templates, dynamic content, and A/B testing.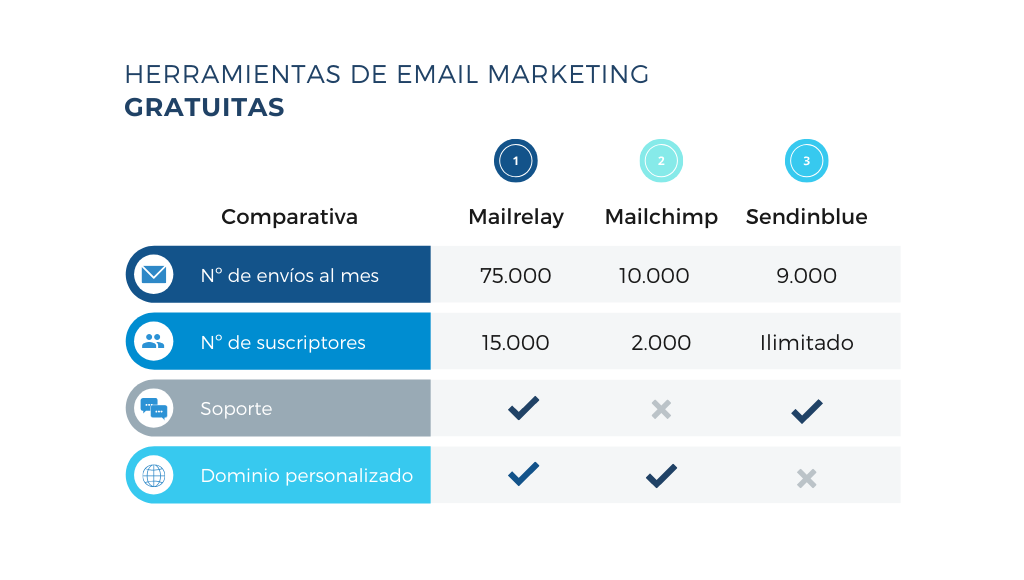 In summary, to who is this free email marketing system aimed at? For users looking for a free email marketing platform, Mailrelay is the best option on the market.
It is also suitable for companies that must send many campaigns at a competitive price. However, if you are looking for a marketing and automation tool, this option is not right for you.
If you are wondering how much Mailrelay costs, you pay for the number of emails you need to send. The system is divided into ten price ranges, which increase according to the number of subscribers and the number of emails. In all of them, you can choose between two options: Standard and Enterprise, which differ only in the statistics; the standard packages don't offer advanced reports.
Mailrelay's free account offers a monthly limit of 80,000 emails and 20,000 subscribers. And the best of all is that it has no limitations, as the paid features are available for free users.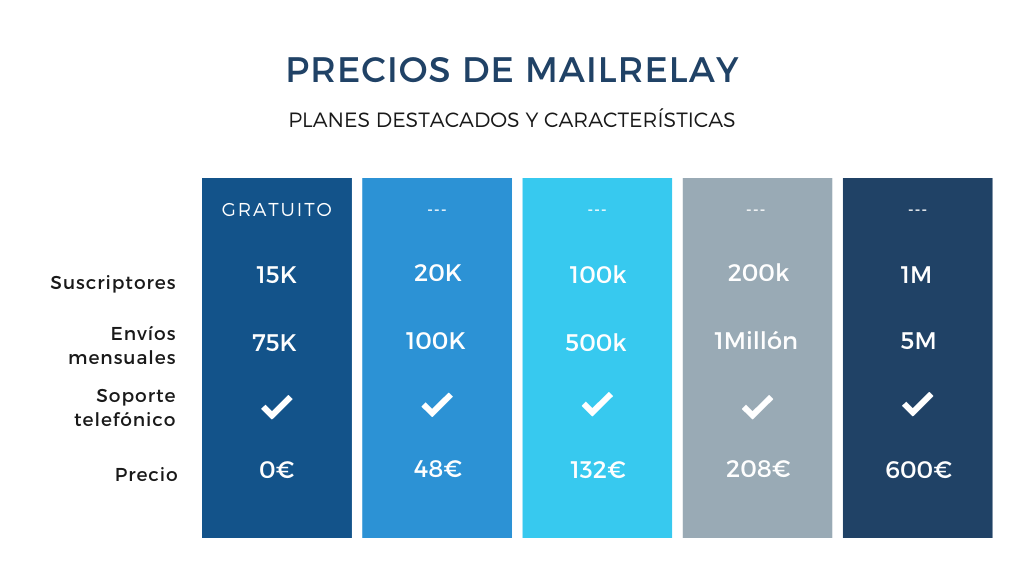 Factors you should consider when choosing an email marketing system
When choosing an email marketing tool, it is essential to take into account several factors to ensure that the platform will meet your needs and objectives:
Ease of use: opt for a system that is easy to learn and use, even for people with no experience in email marketing. The platform should have an intuitive interface that allows you to create, customize and manage your campaigns.
Features: Consider the features and functionality that each tool offers, such as email personalization, workflow automation, subscriber list segmentation, pre-defined templates, and support for different content formats (text, images, videos, etc.).
Integrations: It is crucial that the tool offers options to easily integrate with other services and platforms you already use, such as customer relationship management (CRM) systems, e-commerce platforms, or social media. These integrations will allow you to optimize your marketing efforts, improving the efficiency of your campaigns.
Price: compare the costs of the different tools and choose the one that best fits your budget. Some offer free plans with limited functionality, so you can see how the system works. Mailrelay offers a free email marketing account.
Comparison of features and prices
When comparing the features and prices of different email marketing tools, it is important to evaluate the following aspects:
Free version limitations: If you choose a tool with a free plan, make sure you are aware of any limitations that may affect the usability of the systems, such as the number of monthly emails, subscribers, the availability of advanced features, or customer support.
Scalability: as your company grows, your email marketing needs are likely to evolve as well. Make sure that the software you choose offers scalable plans that adapt to the growth of your subscriber list and your marketing needs.
Customer support: The quality of customer support can be a determining factor in the choice of an email marketing tool. Check if the platform offers support via live chat, email, phone, or even self-service features such as tutorials and guides.
Advanced features: some tools offer more advanced features, such as open and click-through tracking, A/B testing, detailed reporting, and results analysis.
If these features are important for your campaigns, make sure that the platform you choose offers them for the plan you will use.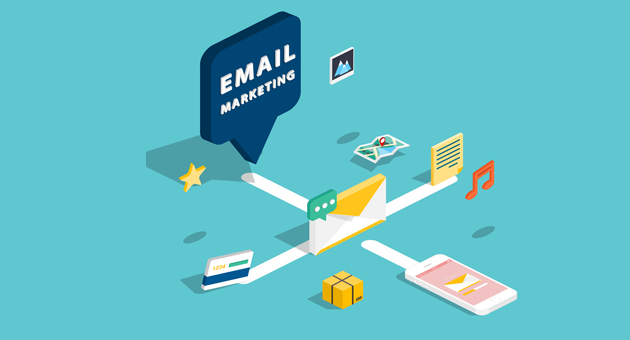 Paid Mass Mailing Applications
Find out which email marketing software is worth paying a subscription for. They all have different functionalities and are focused on different needs, influencing which email marketing software is best for you.
■ Mailchimp
Mailchimp started as one of many mass mailing applications but has morphed into a CRM and automation tool, becoming one of the most popular in the market in this segment.
Mailchimp's paid plans have prices that seem exorbitant, especially when you have many contacts; you would end up paying a lot if you have 100,000 subscribers. However, this email marketing system offers useful marketing features such as online advertising or marketing calendars.
It is perfect software if you are looking for a feature-rich tool, but it is not one of the best applications for sending email marketing. The strengths of the paid plans include A/B and multivariate testing, dynamic content, send time optimization, comparison reports Google Analytics and WordPress integration options, as well as phone support.
It has one free plan and three paid plans, whose value varies according to the number of contacts. It is essential to mention that from 200,000 contacts, it is necessary to request a personalized plan.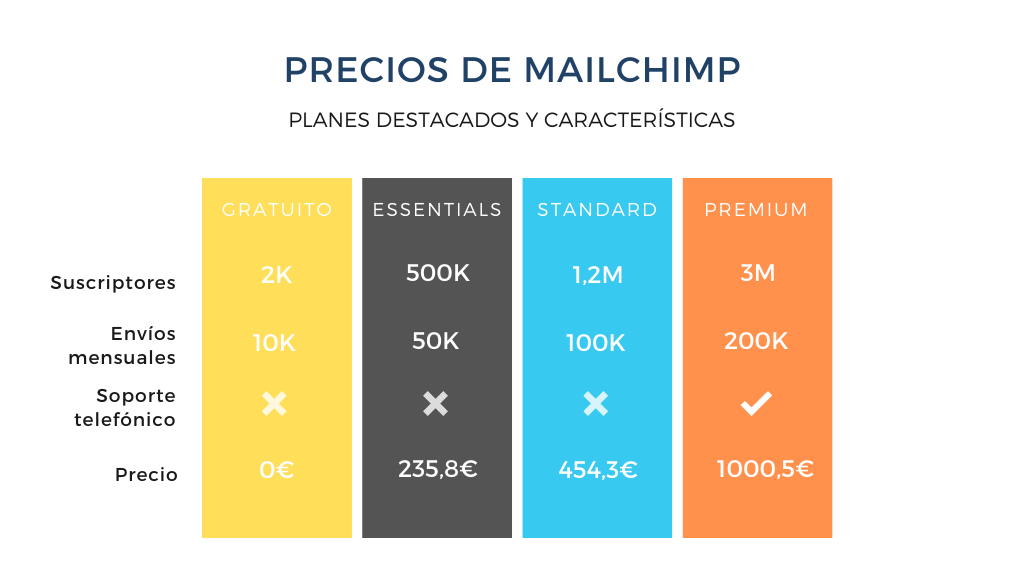 ■

Sendinblue
Sendinblue is the cheapest automation program. It is geared towards marketing automation with features such as landing page and chat.
It offers similar features as Mailchimp, but this software offers unlimited contacts and facilitates RGPD compliance through an advanced contact management system. They also offer more support options. In addition, its prices are more competitive.
The most important features available in the paid plans are: statistics, A/B testing optimizing the sending time, automation, and phone and chat support.
There is a free option that allows 9,000 messages per month to unlimited contacts, but it doesn't allow customers to send more than 300 messages per day; the user can't remove the logo at the bottom of the emails, nor will they have phone support. In addition, it offers three paid plans, from 40,000 emails per month to 350,000 per month.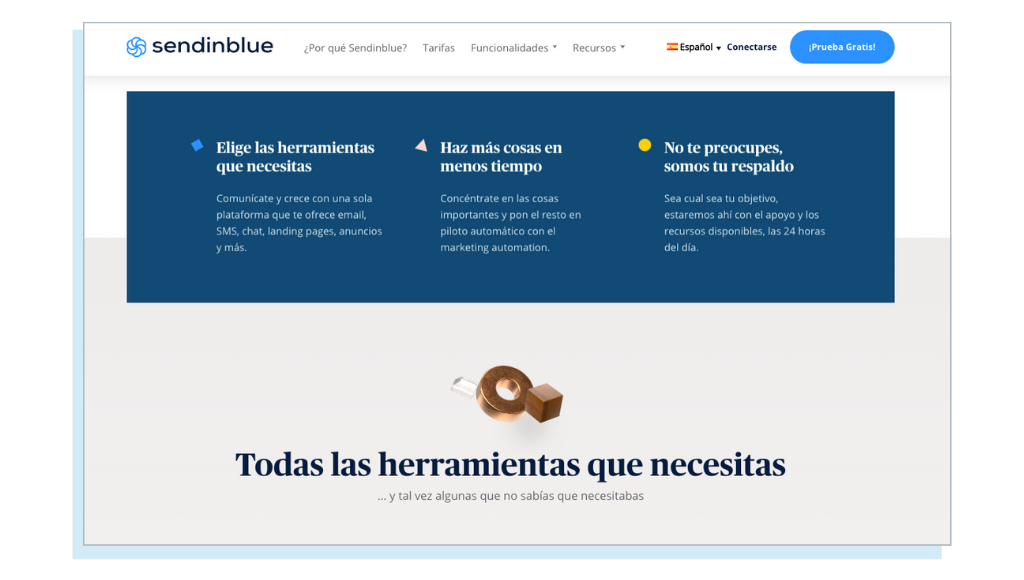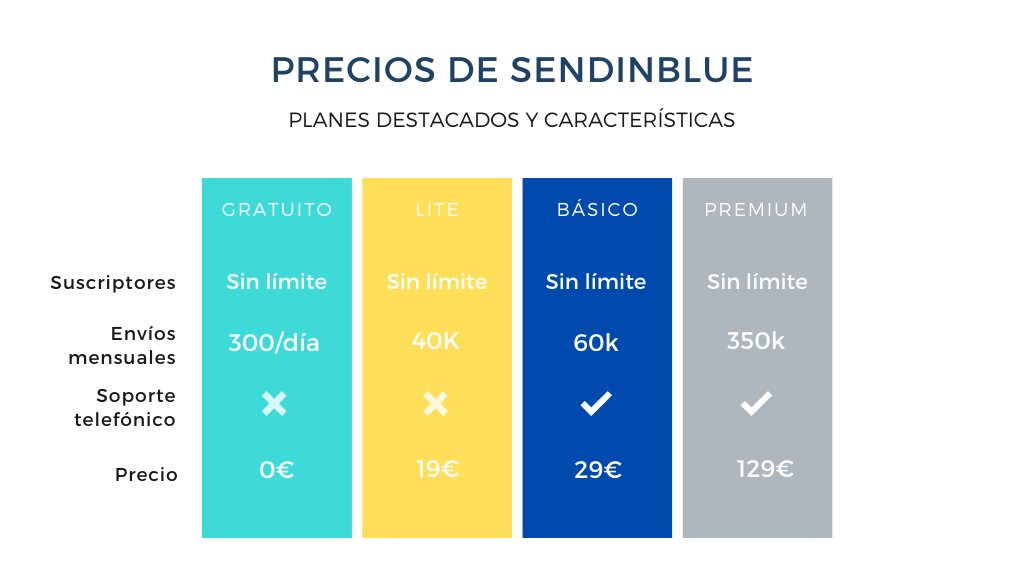 ◆ Free plan
Send limit: 9,000 messages per month to an unlimited number of contacts.
Limitations: you can't send more than 300 emails per day, and you can't remove the logo from the bottom of the emails. Phone support is also not included.
◆ Lite Plan
Limites de envio: 40.000 emails por mês.
Preço: 19 euros
◆Basic plan
■

GetResponse
GetResponse is another popular email marketing tool that offers a wide range of features, including marketing automation, landing page creation, and webinars.
It is mainly known for its ease of use and customization options, which makes it suitable for small to medium-sized companies looking for a complete solution.
In contrast to Mailchimp, GetResponse offers more competitive pricing for its paid plans, especially when additional features are taken into account.
For example, for 100,000 subscribers, the cost is significantly lower than Mailchimp's. In addition, it includes useful features such as send time optimization, A/B testing, advanced reporting, and a wide variety of integrations with popular platforms such as Shopify and WordPress.
In comparison to Sendinblue, GetResponse offers similar features but stands out for its support of webinars and the creation of sales funnels. However, Sendinblue may be a cheaper option for those who seek basic features and marketing automation.
■

ActiveCampaign
ActiveCampaign is an email marketing tool focused on marketing and sales automation.
It offers a complete set of features for subscriber list segmentation, email personalization, A/B testing analysis and tracking of results, and much more.
It is a recommended tool for companies looking for a complete solution to automate and optimize their marketing and sales processes.
Unlike Mailchimp and GetResponse, ActiveCampaign has a pricing structure based on the number of contacts and the number of features you need. This can be advantageous for companies looking for a tool tailored to their specific needs.
In addition, ActiveCampaign offers full integration with popular e-commerce platforms, enabling data integration and sales tracking.
It also features advanced list segmentation options, allowing for the customization of newsletters based on subscriber activity and behavior.
Compared to Sendinblue, ActiveCampaign offers more advanced features and more flexibility in the pricing structure, although it can be more complex to use. Sendinblue, on the other hand, could be a cheaper option for companies looking for a more basic solution.
ActiveCampaign doesn't have a free plan, but they offer a 14-day free trial and four paid plans that can meet different needs and budgets.
■

AWeber
AWeber is an email marketing tool focused on creating personalized email campaigns and marketing automation.
It offers a variety of features, such as list segmentation, creation of personalized emails, and integration with other platforms, including WordPress and Shopify. This product is recommended for small businesses looking for a complete email marketing solution.
Unlike other email marketing tools, AWeber doesn't offer a free plan option, but it does offer a free 30-day trial. In addition, its pricing structure is based on the number of subscribers, which makes this email marketing software a good option for companies with smaller subscriber lists.
Among its key features, AWeber offers a variety of customizable newsletter templates and advanced list segmentation options.
The system also features a drag & drop email editor, which makes email creation quick and easy.
In addition, it offers a wide variety of integration options, including PayPal, Google Analytics, and Facebook.
Compared to other email marketing tools, AWeber may be less suitable for businesses looking for advanced marketing automation options.
However, it is a solid choice for businesses looking for a simple and effective solution to create personalized email campaigns and manage their lists.
■ Benchmark Email
Benchmark Email is an email marketing tool designed for the creation of personalized emails and newsletters.
It offers a variety of customizable templates and layouts, as well as segmentation and A/B testing options to improve the effectiveness of campaigns.
It is a recommended tool for small businesses and non-profit organizations.
Benchmark Email offers a free plan with limited features, as well as paid plans that adjust to the number of subscribers and sending frequency.
In addition, they offer a paid option with different packages, recommended for businesses with a smaller subscriber list, or send emails less frequently.
Key features of Benchmark Email include a wide variety of customizable email templates and design tools, as well as integration options with social media and marketing automation tools.
It also offers tracking and analytics options, including open and click-through rates, allowing users to evaluate the success of their campaigns.
In comparison with other email marketing tools, Benchmark Email may be less suitable for companies looking for advanced marketing automation and segmentation options.
However, it is an interesting choice for companies looking for an easy-to-use and effective tool for creating personalized email campaigns and newsletters.
Email campaigns and personalized newsletters.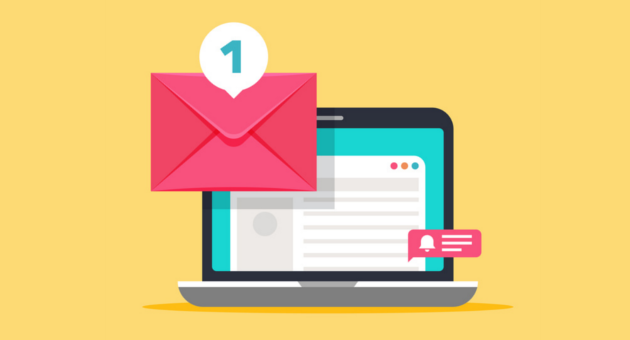 Free email marketing software
If you want to start creating email marketing campaigns for free, there are many perfect applications for doing so. You can opt for a simpler service or work with a professional email marketing system that offers advanced options for various types of marketing strategies.
■

Mailrelay
The free version of Mailrelay, compared with the rest of the applications, is the best free email marketing software, mainly because of the limits available for free users. You can send 80,000 emails monthly and work with up to 20,000 contacts.
In addition, the free plan offers all the support options available in the paid version. The tool is recommended for users who need advanced options but can't afford the costs of a paid plan or who need more advantageous options in paid packages.
■

SendPulse
SendPulse is especially useful for companies that are looking for more than just free email, as it is a multi-channel platform that covers everything from SMS, Viber, transactional emails, or web push, among other options.
The free plan allows you to send 15,000 emails per month to up to 500 subscribers. In addition, it gives you access to features such as A/B testing, auto-responders, advanced reports with heat maps, and opens by location.
■

Mailify
Mailify is an excellent choice of free mailing software because it offers several valuable features. In addition, Mailify specializes in mass mailing, bulk SMS, and marketing automation.
It stands out for its EmailBuilder, an intuitive editor that offers attractive newsletter templates suitable for all types of devices, including professional images for free download. It allows you to send up to 500 free emails and, unlike other competitors, will enable you to import unlimited contacts.
The free version offers advanced features, from sending by interval, availability in 6 different languages, and allows you to connect it with up to 30 applications, such as Google Analytics or WordPress.
■ Moonsend
Moonsend is an email tool focused on personalization and automation. The free plan lets you send up to 200 emails per day but only allows 1,000 contacts.
It offers advanced features such as list segmentation and A/B testing.
Moonsend is a good option for those looking for an email tool that focuses on personalization and automation.
■ Omnisend
Omnisend is an email marketing and automation platform designed especially for e commerce. It offers a free version that allows you to send up to 15,000 emails per month to 2,000 subscribers.
It offers different integration options with various e-commerce platforms such as Shopify, Magento, or WooCommerce, and for its automation, which can create personalized emails based on customer behavior.
■ Sender
Sender is a simple and inexpensive email marketing platform that offers intuitive tools for creating and sending email campaigns.
Unlike other software, you don't have to pay for each contact you have in your database.
The free plan allows you to send up to 15,000 emails per month to a list of 2,500 contacts. Among the main features, we can mention the customizable email templates, drag & drop editor, automation, results analysis, and online support.
However, this tool lacks some of the advanced features offered by other applications, such as A/B testing, social media integration, or advanced segmentation.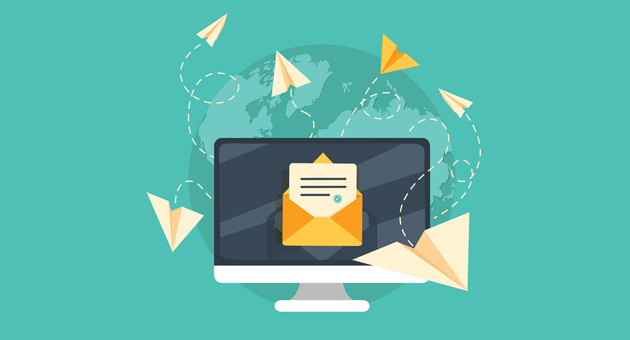 Complementary Tools
Email marketing is a digital marketing strategy that allows you to maintain direct contact with every customer or potential user via email.
For email marketing campaigns to be effective, you need to work with complementary tools that will allow you to improve the quality and effectiveness of the emails.
Here are some complementary tools that can be very useful in improving the quality and effectiveness of email marketing campaigns.
■ Canva(graphic design)
Canva is a graphic design tool that allows you to create attractive and professional designs for all types of content, including emails.
With Canva, you can create custom email templates, add images, and create eye-catching graphics that will grab your recipients' attention.
■ Unsplash (free images)
Unsplash is a free, high-quality image platform that can be used to add eye-catching images to emails.
The tool has a wide variety of images on different themes, which can be used to create more beautiful and visually appealing emails.
■ Grammarly (proofreading)
Grammarly is a proofreading tool for improving the quality of written content. With Grammarly, you can correct grammar and spelling errors, and enhance the style and structure of your content.
This can be very useful for creating high-quality emails that grab recipients' attention.
■Google Analytics (análise de desempenho)
Google Analytics is an analysis tool that allows you to measure and analyze the results of email marketing campaigns. With Google Analytics, you can get data on the number of views, clicks on links, time spent on the site, and much more.
This can be very useful for optimizing your email marketing campaigns and improve its effectiveness.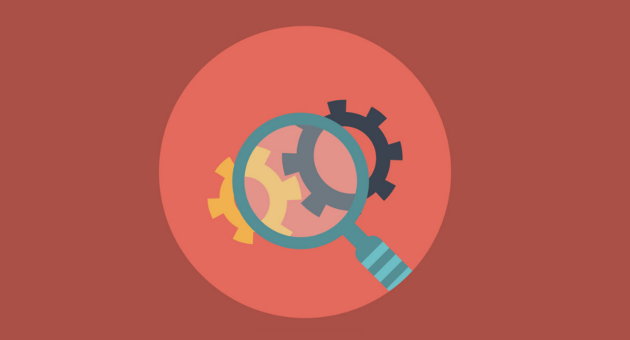 Our recommendation for email marketing tools
All the email marketing software options we have looked at today are among the best alternatives available on the market. However, not all of them offer the same features, price and are not designed to meet the same needs.
We would have to understand your case and your needs before affirming that Mailrelay is the best option for you, but many companies have migrated from other applications to Mailrelay.
These companies have chosen our platform because of our features, our proprietary infrastructure, competitive pricing and our expert technical team.
What do you think of these email marketing tools?
If you are unsure, try our free account, which has almost no limitations.
Then you can decide for yourself!
Register with MailRelay now and create a free account!
Translated by Micheli.
The post Email marketing, the best tool to optimize your campaigns appeared first on Mailrelay.